CLICK ON THE IMAGES FOR LARGER VIEW!
This page has the various items I've made for hunting and outdoor recreation.
These are the shoulder padding of rifle slings, they are thickly padded with 2 layers of Neoprene with a lighter leather backing on them. The slings can be drawn tight with a sliding piece to adjust instantly. The images are hand carved and painted and can be of any outdoor scene.
This is a basket weave handle I did on a walking stick, the strips are glued down as I work so the grip does not slide or shift when holding it.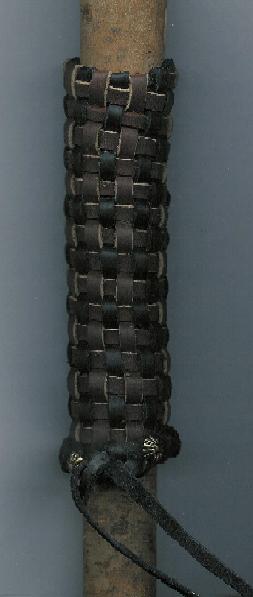 These saddle bags were made to mount on the back of a bike, they measure 10x11x3 and made of a sturdy leather. They require a frame of sorts behind them so not to push into the tire. Holes were made for the bolts at top so that there would still be a place to use the elastic cord that ties things to the top of the rack.